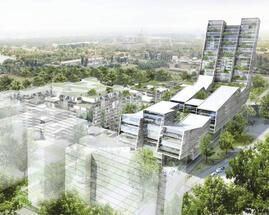 Therefore, the company Străulești Property Development, the vehicle of the development, is now owned by two investment vehicles of Erste Immorent Group Romania, IR CEE Project Development Holding and Subholding Immorent, both from Austria.
IR CEE Project Development took over in August the shares owned by Șerban Patriciu and by the company Astra Investiții Imobiliare, managed by Patriciu and owned by Dinu Patriciu Global Properties,  with 50 pct of the shares.
Patriciu and Immorent made a partnership in 2008 for the development of the project Smart City, which was intended to be developed on a 4.5 ha land near Baneasa lake, the built area being estimated to 150,000 sq. m.
The complex was designed to include A class office buildings (50,000 sq.m), commercial spaces and residential (100,000 sq. m).
Dinu Patriciu, deceased last year, bought in the end of 2008 the investment fund Fabian, with a portfolio of six office buildings in Bucharest and more than 70,000 sq. m rentable area, as well as half of the residential project  New Town Residence in Dristor area.
Through other two acquisitions of two investment funds listed on London Stock - Deutsche Land and Rutley – with assets on markets such as Germany, Poland and Sweden, Patriciu reached a real estate portfolio of EUR 1.3 billion.
The real estate business was consolidated under the name Dinu Patriciu Global Properties.
The real estate portfolio in Bucharest is now managed by the company Adval Asset Management.
The company manages assets of EUR 126 million, with a total area of nearly 100,000 sq. m, namely the office buildings Romana Offices, Cascade Offices, Banu Antonache, Băneasa Center, Cubic Center, Adevărul Office & Print Center, Evo Center One, New Town Residence, Berthlot Villa, a logistics park in Pantelimon and a land of 11,000 sq. m in Poiana Brașov. (source: profit.ro)