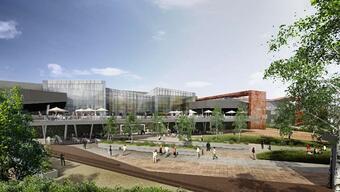 The centre will offer a unique, environmentally friendly design and a distinctive mix of leisure and sports features, connected to the adjoining Titan Park.  ParkLake brings a unique set of tenants with several first time brands and new retail concepts in the market, while its appealing architecture will offer a comfortable and pleasant stay in a new environment like no other in the country.
Sonae Sierra and Caelum Development already financed the €180 million investment that has currently over 97% of the GLA signed with more than 200 shops. The Centre enjoys the additional benefit of 2,450 parking spaces and direct access by all major means of public transportation.
The centre is themed around "Park – Nature – Family", opening to visitors a world of innovative shopping experience in the same time matching modern visitors' service and comfort demands like friendly parking, resting areas, light-flooded mall with entertainment and environment friendly ambience. Exterior and interior design is also themed around "Park – Nature – Family" and will integrate ParkLake as a destination extending the leisure of the adjacent Park.
Awarded for "Architecture and Design" in the shopping centre category at May SEE Real Estate Awards, ParkLake is designed according to international top standards in terms of quality, safety and sustainability. The shopping centre will have an international food court terrace with beautiful views of the park as well as a green area to be used for leisure and sports, special events, seasonal markets, as a great complementary offer to the park, shaping additional recreational space and open-air entertainment. (source: nineoclock.ro)