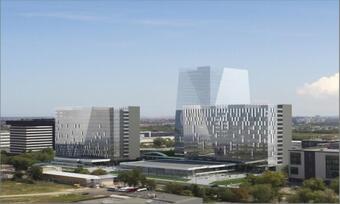 "We are proud to announce that our flagship project, Globalworth Tower, was delivered in the first half of this year, (...) increasing the rentable area up to 358,000 sq. m. The projects we will develop (apart from Globalworth Tower) include four buildings of which two office buildings to be delivered in 2016, and the other projects – office and industrial-will be delivered in 2017. Upon their completion, these developments ( including  Globalworth Campus Phase B) will add another EUR 153 million to our portfolio (in the end, the value will be of EUR 1.1 billion)", has declared Ioannis Papalekas, CEO of Globalworth.
Globalworth portfolio was nearing on billion Euros in the end of last year  (EUR 931 million), almost double compared to the value in the end of 2014 (EUR 599.3 million), according to the consolidated financial report.
However, the debts total EUR 408.5 million, representing half of the assets'value.
"In 2015 we added our portfolio six new commercial properties, of which four are new acquisitions in Bucharest and two were developed by Globalworth Timișoara (part of the industrial complex TAP).  Curretnly we own 100 pct of the 15 real estate investments evaluated at EUR 931 million in December 2015", Papalekas explained.
The future plans of Globalworth include two plots for development in Bucharest. The plots, totalizing 9,700 sq. m, with a value of EUR 18.2 million, represent "opportunities for the office or mixed-use projects we intend to take advantage in the future in order ot increase the real estate portfolio", details the report.
The company signed in the latest 18 months several leases with national and international companies, including Valeo (TAP, Timișoara) for 13,500 sq.m, ADP (Gara Herăstrău) for 6,100 sq.m, Nestor Nestor Diculescu, Kingston Petersen (Globalworth Tower) for 5,800 sq. m, Honeywell (BOC, Bucharest) for 4,800 sq.m, Deutsche Bank (BOB, Bucharest) for 3,100 sq.m or Vodafone (Globalworth Tower) for 1,950 sq.m.
"Our portfolio includes nearly 85 companies, local or international, from more than 15 countries. 2016 is an important year for us as we are involved in a series of negotiations for the takeover of the space available in our properties and developments, as well in negotiations for expansions of some of the current tenants", Papalekas also said.
Globalworth had last year EUR 66.3 million EBITDA, with 180 pct. increase compared to the previous year when the company registered EUR 23.6 million profit. The fund registered revenues from contractual rents of EUR 44.8 million, a value double compared to the value registered in 2014, with EUR 9.7 million resulted from the investments completed in 2015.
"The revenues increase due to new investments made in 2015 could have increased up tot EUR 15.3 million, if we have bought these entities in the beginning of 2015", the financial report writes.
The total investment value in 2015 reached EUR 244 million, including the acquisition of four A class office buildings in Bucharest (transaction with a value of EUR 173 million). Therefore, overall, since February 2013, when the company was founded, EUR 814 million were invested. (source: profit.ro)