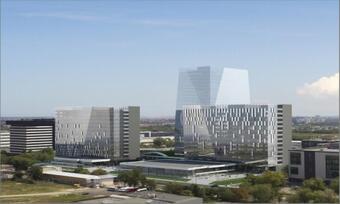 With a total gross leasable area (GLA) of 105,000 sqm, Globalworth Bucharest Campus would be the largest office park in Romania. Its location is in the Pipera-Barbu Vacarescu region of Bucharest, where all the major office projects developed in recent years are located.
Globalworth bought pieces of land totaling 30,000 sqm in the area, from local pharmaceutical group Farmexim, in June this year. The company already invested EUR 17.8 million in the compound, which includes the land purchase, the design of the building and the building permits.
Globalworth is already in advanced negotiations with a multinational group to lease 25,000 sqm in the project. Upon completion, this project would become the most valuable in Globalwoth's portfolio.
Globalworth was founded by Ionannis Papalekas and listed on the London Stock Exchange in 2013, following a EUR 53.6 million initial public offering. The company raised another EUR 144 million in April 2014 from institutional investors such as York Capital Management and Oak Hill Advisors.
The company already invested EUR 387 million in nine real estate projects located in Romania. Five of these are completed and operational, while the other four are in development. Globalworth estimates these will require another EUR 177 million to be finalized.
Among these are the Bucharest One office tower, located next to Sky Tower, in the Barbu Vacarescu area, Herastrau 1, an office building located near Herastrau Park, and Timisoara Airport Park, an industrial park in Timisoara, which is already leased to automotive producers Valeo and Continental. Many of these were bought from other firms controlled by Ioannis Papalekas and his associates.
Papalekas started buying troubled assets in Romania in 2011. His first purchase was the City Mall shopping center in Bucharest, which he converted into an office building, City Offices, now owned by Globalworth. He also bought two of Bucharest's most controversial projects, Tower Center and Cathedral plaza, at discounted prices. Tower Center, which was empty at the time he bought it, is now 97% occupied by tenants such as Hidroelectrica, Deutsche Bank, EY Romania, Huawei, and the Ministry of European Funds. The tower was also sold to Globalworth.
Cathedral Plaza is still unoccupied. The office building, which was raised next to the Sfantul Iosif Catholic Cathedral in Bucharest was supposed to be demolished after a court in Romania ruled that it was illegally built. Cathedral Plaza is owned directly by Papalekas.
Globalworth also bought the BOB and BOC office buildings in Pipera and the Upground Towers residential project, for which it paid some EUR 210 million in total.
The company's assets at the end of June 2014 were valued at EUR 532 million and will reach EUR 887 million upon completion, according to appraised valuations made by Coldwell Banker and CBRE.
Net assets at the end of March 2014 were EUR 230 million. The company's market capitalization is EUR 255 million. (source: Romania-insider.com)