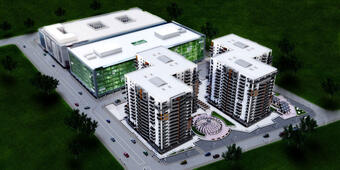 Papalekas should have sell to the Germans for EUR 340 million the entire UpGround project, developed on 4.4 ha plot near Pipera metro station and made of 80,000 sq. m offices and 600 flats yet RREF didn't bought the two blocks of flats completed after the crises, but only 78% of the two office buildings.
"We don't want to comment", was the answer of Tim-Oliver Ambrosius, the communication officer of Deutsche Bank. The market value of the office buildings in Bucharest has decreased with approx. 30% compared to the period 2007-2008, considering the annual yield expected by the buyers form these investments has increased from 5.5-6% to 8.5-9%, while the average level of rents also went down.
Papalekas made this transaction through the fund Globalworth and with the help of EUR 65 million loan from Swiss bank UBS.
The tenants of the buildings BOB and BOC in Pipera include companies such as Honeywell, HP, Intel, Nestlé, Banca Româ­nească and Deutsche Bank.
The real estate market is waiting for the large players' comeback, though the exit of Deutsche Bank from the UpGround project raises questions about the market's attractiveness. (source: zf.ro)