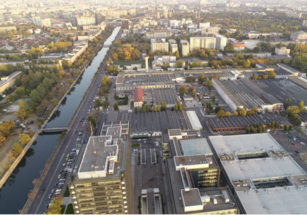 "Sema Parc is a generous space, adaptable to all businesses, whether we are talking about top companies operating in class A buildings, or we are talking about small production companies, logistics or smaller activities, which have different needs. We are actively open to the business community and we are glad that the founders of Pain Plaisir have chosen Sema Parc for their newest production space. We hope that, in a short time, we will be able to host them a new bakery-store. " - said Tina Virlan, Leasing Manager at River Development.
The rented space has an area of 1,000 square meters and is located in one of the existing buildings in Sema Parc, which have recently undergone a process of rehabilitation and modernization. The space is suitable for small production activities. The building has all the necessary utilities and is very well connected to the infrastructure and facilities present in Sema Parc.
"We have chosen to expand our business in Sema Parc with a new production space, for excellent positioning and for the facilities of the community developed here. Our strategy, which currently focuses only on Bucharest, is to open stores "close to home", because artisanal bread must be eaten fresh and bought almost daily, in the absence of preservation and loosening agents. Sema Parc has given us the ingredient of a community in which we can grow, as we wish, in the coming years. " - said Irina Stancescu, Co-Founder of Pain Plaisir.
River Development is a real estate developer with Romanian capital, with activity for over 15 years on the local market, supported by a team of professionals with extensive experience in planning, developing and managing large real estate projects. River Development develops the real estate projects Sema Parc (located on Splaiul Independentei - approx. 1,000,000 sqm GBA) and The Light (located on Iuliu Maniu Boulevard, approx. 150,000 sqm GBA), both located in the central western area of the capital and in different stages of development.
River Develoment has over 150,000 sq m of office space in its portfolio and has delivered in the last two years over 38,000 square meters of new class A buildings, within the Sema Parc project, through the three class A buildings - Brussels, Paris and Berlin. London and Oslo buildings with delivery in Q4 2021 will add another 31,500 sqm (GLA) of class A offices within the Sema Parc project. As part of its second portfolio project - The Light, River Development has already delivered the first phase - The Light One, a Class A office building with a leasable area of 21,653 sqm. All recently developed or under construction projects comply with BREEAM standards for green buildings and target for the "Outstanding" rating.
Founded in 2013 by Irina Stancescu and Tom Rees, Pain Plaisir is an artisanal bakery that offers customers fresh bakery and pastry products, with mayo and without dyes, enhancers or preservatives. The company has two stores in Bucharest, in Kiseleff and Floreasca, uses mostly local ingredients and raw materials and created a community around the bakery and the idea of bread as a central element of the table, where the whole family gathers.
Since its establishment, the company has invested 800,000 euros, the main projects being the opening of the first bakery and its expansion, the development of a new production space, the opening of the second store and its relocation, the creation of identity and online store, software implementation ERP for production planning and business management, but also initiating a rebranding process. In 2021 Pain Plaisir will increase its production capacity and will open a new store, following an investment of approx. 500,000 euros and estimates a turnover of two million euros, obtained together with a team of over 50 employees. (source: River Development)