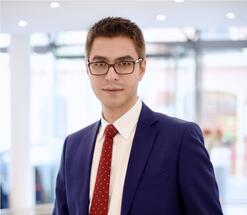 Peter Bečár, P3's Managing Director for Central & Eastern Europe, said: "Andrei knows this park inside out and his customer focus will help us unlock its potential, with 40 hectares of available development land. He is a great addition to the Bucharest team, reflecting P3's ambitions in a market that is playing an increasingly important part in Europe's manufacturing supply chain."
Jerca, 32, has overseen the asset management of the 215,000 m2 P3 Bucharest park for the past seven years. P3 acquired the park in a transaction that completed last month, making it one of Romania's leading logistics warehouse owner-operators.
His previous responsibilities have included all aspects of leasing at the park as it added more buildings and attracted customers with growing space requirements. He graduated from the Faculty of Marketing & Commerce at Bucharest's Academy of EconomicStudies,.
Andrei Jerca said: "P3 established its bridgehead in Romania five years ago and its commitment to invest and grow in Romania is what attracted me to joining the strong and growing team. The acquisition of P3 Bucharest is a new stage in the company's evolution and I look forward to making my contribution to the ambitious business development plans there and perhaps elsewhere in Romania."
P3 is a specialist owner, developer and manager of European logistics properties. Active throughout Europe, P3's asset base comprises 141 warehouses, totalling 2.9 million m2 of space across 9 countries and a land bank with zoning for more than 1.6 m2 of potential development.
P3's mission is to provide warehouse tenants with a first rate occupancy experience in high quality assets in key logistics locations. P3 develops environmentally sustainable warehouses that meet the highest international standards.
PointPark Properties has adopted "P3" as a corporate brand and use the trading name P3 Logistic Parks to better reflect the company's core business. You can find more information about P3 on our new website www.p3parks.com.
P3 is owned by TPG Real Estate and Ivanhoé Cambridge. (source: P3)