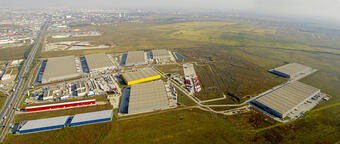 The purchase, which is still subject to contractual terms and regulatory approvals, also includes almost 165 hectares (ha.) of land for development, principally in Poland and Romania.
Ian Worboys, P3's Chief Executive, said:"This portfolio of high-quality properties in great locations strengthens our position as one of the top logistics property owners in Europe. This transaction follows P3´s recent            acquisitions in Italy and the Czech Republicand is in line with our overall strategy for growing our business since the acquisition of P3 by TPG and Ivanhoé Cambridge in October last year. P3 now operates more than 2.9 million m2 of modern logistics and distribution facilities and also owns one of the largest land banks for logistics development in Europe. This acquisition of high quality assets produces strong cash flows that will provide attractive returns for our stakeholders."
In Poland, the 177,000 m2 park at Blonie is situated 30 kilometres west of Warsaw city centre, with links to the A2 motorway to Poznan and Berlin.  Tenants include Bayer, IBM, Orange, Triumph and online retailer Allegro, reflecting the park's appeal to large retailers seeking proximity to the Polish capital. This park offers 17 ha. of development land.
The second park lies near Piotrkow, South East of Lodz in central Poland. It provides 75,000 m2 of space and direct road links to Warsaw, Wroclaw and Katowice. The park is on a 120 ha. plot, offering scope for development. Kühne & Nagel, FM Logistic and InPost are among the park's largest tenants.
The Bucharest Park is the largest of the three standing assets acquired by P3, consisting of 215,000 m2 of almost fully occupied space and 40 ha of land for development. It is a major centre for third-party logistics providers, due to its direct access to the A1 motorway heading westwards and the park's freight handling facilities as part of the pan-European rail corridor linking Dresden and Nuremberg to Istanbul. The park's location, close to the city's principal ring road and easy access to central Bucharest, attracts e-commerce tenants, notably online retailer e-Mag as well as multinationals such as Carrefour, Tibbett Logistics, Gebrüder Weis and Interbrands.
Peter Bečár, P3's Managing Director for Central & Eastern Europe, said: "The addition of parks near Lodz and Warsaw reinforces our presence in Poland alongside our existing parks in Poznan and Mszczonow. Together with the purchase of the best logistics park in Romania, these assets strengthen our CEE portfolio andcomplement our recent investments. It allows us to provide our customers with warehouses in a true pan-European platform." (source: P3)