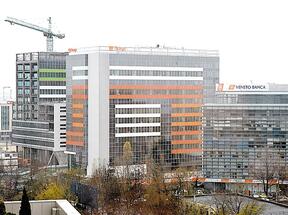 Orange has leased 13,700 sqm available on eight floors. The new office features special areas for meetings, trainings and socializing and boasts several green features such as an energy efficient façade, an enhanced fresh air flow rate, energy efficient lighting systems, charging stations for electrical cars and parking and facilities for cyclists.
It took seven months to complete the relocation and some 50 suppliers were contracted for this project.
Swedish developer Skanska completed the first building of Green Court was in October last year and the next month it was announced that Globalworth Real Estate Investments, controlled by Greek businessman Ioannis Papalekas, bought it for approximately EUR 44 million.
The building features 19,500 sqm of office space. Other tenants besides Orange Romania include Schneider Electric Romania, LS Travel Retail Romania and Corporate Management Events.
Another two similar buildings will be raised as part of the same project which will add to total leasable area of 52,000 sqm. The construction of the first building and the foundation of the second one required a EUR 46 million investment. (source: business-review.eu)