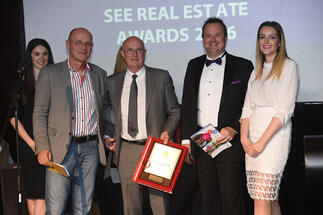 This award is an industry-wide recognition of the excellent performance and the accomplishments of the company in implementing creative and effective approaches in managing construction processes and successfully delivering an impressive portfolio of projects. It represents a reward of the efforts and achievements of Optim PM staff and highlights their dedication to excellence.
By accepting the award, David Evans was giving thanks to the clients, the jury members and to all Engineers and Architects from OPTIM PM team.
With 18 active projects in design or construction stage representing Residential, Offices, Manufacturing, Retail and Renewables, OPTIM PM has doubled their number of active clients in the Central Eastern European region, supporting the promotion of expansion opportunities within 7 countries and the supply of appropriate capability in the region.
The awards gala was a great success and was well received by all winners and their guests. The quality and number of nominated companies for this year's event suggested an underlying strength to the region's property markets. The 11th annual SEE Real Estate Awards for 2015 was held in front of a large and enthusiastic crowd. The event brought together some of the region's top real estate developers, investors and market professionals, who were there to see who would collect the 25 prizes that were handed out over the course of the evening.
Company of the Year awards were presented to the leading developer, investor and professional service providers in South Eastern Europe for their activities and accomplishments during 2015. Companies were judged on their overall market contribution, quality of customer services, market innovation, commercial success, leadership and market penetration. (source: Optim PM)