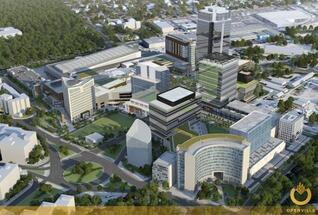 The idea of expanding the brand from Openville to Iulius Town was prompted by the special appreciation of Timisoara locals for Iulius Mall, which came into prominence as early as its grand opening in 2005 as the regional leader in terms of the shopping offer, a landmark of the city, as well as one of the leisure venues of choice.
The EUR 220 million project is the largest real estate investment in the western region of Romania and was designed from the very start as incorporating Iulius Mall Timisoara, then supplementing it with complementary office, retail and entertainment uses.
Aside from its new name, the urban development project remains unchanged, maintaining all the components provided initially: a regional business hub, the largest retail development in the west of Romania, a park, event halls, and new parking spaces.
Iulius Town will be the city within downtown Timisoara, an urban regeneration project designed to unite the community and bring together Timisoara locals, people from the region, as well as visitors from across the border, whether they work in the offices here or come here for shopping, sport or relaxation.
The first phase of development of the Iulius Town mixed-use is currently pending construction and will include: 120,000 sqm retail, 450 stores, new brands, a new cinema concept, the largest health and fitness center in Romania, event halls, restaurants and themed cafés, 100,000 sqm offices, a traffic underpass, and approximately 4,070 parking spaces.
Iulius Town also features a splendid park that will offer a genuine spectacle of nature through every season. The attractions in the green space will include thousands of trees from various species, a lake, double-decker carousel, playground areas for children and a skating rink. (source: Iulius Grup)