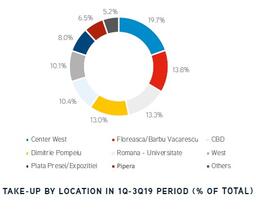 The third quarter saw a gross demand at 74,800 sqm in Bucharest, up by c.18% in the January-September period (to around 263,000 sqm). However, the net take-up is still down some 20% in the first three quarters of 2019, to 83,600 sqm, with 35,000 sqm in Q3 2019.
Over 100,000 sqm of leasing transactions in the first 9 months of 2019 were generated by relocations from competitive stock, on track for an all-time high this year. Around two thirds of these deals are pre-leases, meaning that their impact is yet to be felt on the vacancy rate, which remains in a market neutral-area of c.10%.
Some 66,000 sqm in new modern office buildings came online in the third quarter, coming from 3 projects – Expo Business Park in the Expozitiei area (c.38,400 sqm), The Light in Center West submarket (c.21,700 sqm) and Eminescu Office near Romana Square (c.6,300 sqm), thus taking the grand total for deliveries this year to over 250,000 sqm in the first three quarters of the year. There are big chances to break the 300,000 sqm threshold in terms of deliveries, but as usual, there is always the danger that one or more may get delayed into 2020
"Bucharest is gradually turning into a tenant market overall (a trend likely to become more visible in 2020), which may lead to pressures on the aggregate headline rate, though in isolated cases, some submarkets or even highly sought-after buildings within some submarkets may still reward landlords with a stronger position in negotiations", Sebastian Dragomir, Director Office Advisory at Colliers, said.
"The higher vacancy will likely support a more thorough segmentation of the market, between prime assets located in the CBD or in very good locations and those in peripheral areas or those with not so good transport connection. We believe that the market is gearing for the rent gap between these two categories of buildings to increase over the medium term (largely amid downward pressures on rents for poorly positioned buildings) as it is supported largely by infrastructure discrepancies – in fact, the higher rent may be rather a temporal premium based on how much it would take an employee to move from different areas of the city to the workplace", Sebastian Dragomir concluded.
The IT&C segment was by far the star of the show yet gain, generating close to 58% of the total market demand (and the bulk of the net take-up as well), followed at a great distance by the financial and professional services segments, both with a market share of around 11%.
In terms of locations, take-up focused both on active submarkets in terms of new deliveries and also established markets amid renewals, with Center West accounting for almost 20% of gross take-up in the first three quarters of the year, followed by 5 other submarkets with a share of between 10 and 14% of total demand.
Overall, high-frequency indicators suggest that the very near-term outlook remains largely good for the Bucharest office market, with demand still likely in line with the trend seen this economic cycle, though external uncertainties cloud the longer-term outlook. (source: Colliers)