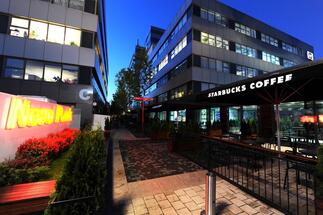 Situated in northern Bucharest, Novo Park is developed by Genesis Development, a company managed by the businessman Liviu Tudor.    
Starbucks Novo Park has a usable area of 200 sq. m and is situated in the ground floor of D building of the office complex.
"Starbucks Novo Park adds to the list of facilities offered to the 8,000 employees working in our buildings, as well as to other employees in the area, with Pipera being the main office pole in Bucharest. The clients could reach Starbucks Novo Park both from Dimitrie Pompeiu Blvd. and from Fabrica de Glucoza St. This will considerably contribute to the traffic of the new café", said Liviu Tudor, president of Genesis Development.    
Starbucks Novo Park is the eighth Starbucks café in Bucharest and the 11th in Romania.  (source: dailybusiness.ro)