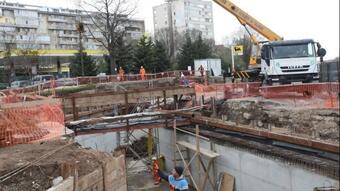 Bucharest mayor Sorin Oprescu visited the construction site on Wednesday (April 16) to see the state of work. The pass, 70% paid for with EU funds, should be ready at end-2015, with work having started in May 2014.
The total investment stands at some EUR 29 million, making this the biggest project financed by EU funds in Bucharest, according to Oprescu. The municipality risks losing the fund if it does not finalize the pass by the agreed deadline.
Much is still to be done before the project is completed, including the walking passages, electrical wiring, support pillars, re-installing tram lines, among others.
Once completed, the 350-meter pass will help smoothen traffic at the crossroad of Calea Vacaresti, Oltenitei street and Nitu Vasile street, as well as on the city's main ring road.
The pass will also include four walking passes connecting the metro station to the tram station. None of the zebra crossings above the ground will exist anymore.
When ready, the pass will reduce traffic waiting time in the area by three-quarters, according to the mayor. (source: romania-insider.com)