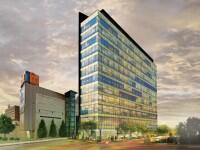 The Ness Timisoara Technology Innovation Center officially opens in January 2016. The new facility, managed by the Iulius Group, will span on 2,800 sqm in the United Business Center 2 building within the Openville Urban Ensemble, the upcoming business center of the city that will reunite retail, park and entertainment functions. This project is designed following the concept used for the Palas Urban Ensemble in Iasi, where Ness's Iasi Technology Innovation Center will continue to expand, building on the 250 new jobs it has added since its inception three years ago.
The new campus, located in Timisoara, enables Ness to tap into an abundant talent pool in Romania that includes deep automotive industry expertise and experience aligning big data and consumer-facing applications to develop solutions that create more engaging user experiences.
"Timisoara extends our global footprint and commitment to Central and Eastern Europe as a region rich with talent. As we know from the continued success and growth of our teams in lasi, Romania and Kosice, Slovakia, this region is especially tuned into the pace and changing requirements of the digital economy," said Paul Lombardo, Ness SES CEO. "Through this new campus, we're bringing together engineers with a wide range of valuable expertise, especially in automotive, and this will be exciting as connected cars rapidly lead us toward an era of connected everything."
Ness expects to grow its Timisoara location at a similarly rapid pace to 400 or more employees over the next 4 years. In addition to focusing on the automotive industry and DACH (German, Austria, Switzerland) countries, this new center will attract talent skilled in high-performance systems, functional programming such as C and C++, and big data from marketing/online advertising.
Octavian Tanase, Ness SES associate VP of Delivery, will oversee the new center in collaboration with management from the company's Iasi location.
Ness Software Engineering Services (SES) is a provider of outsourced engineering services, offering expertise in products and platforms, data and analytics, and experience engineering.
Iulius Group is a Romanian developer and operator of mall-type shopping centers and the only company in Romania to have developed a mixed use project. Iulius Group will invest over EUR 220 million in the Openville mixed use urban ensemble in Timisoara. Designed as a "lifestyle center", Openville will bring together office, retail, park and entertainment functions.
The construction works began this September. The investment is the largest infusion of private capital in the real estate sector in the west of the country, being the second mixed use project in the company portfolio alongside the Palas Iasi urban ensemble. (source: business-review.eu)