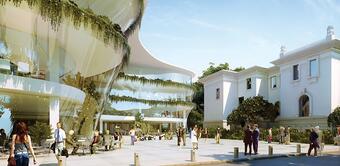 "The construction permit for the development of the office complex Piata Victoriei Office (Bucharest) has been received and the works will start in a few weeks", shows the most recent financial report of NEPI, sent to the Bucharest Stock Exchange.
NEPI owns the Oromolu villa and the land, ceased by the company Avrig 35 to cover a debt. Martin Slabbert, the executive director of NEPI has recently declared for Ziarul Financiar that the investment in the project reached EUR 37 million and it is supported by own funds.
Around the building, built in 1927 and former residence of the National Bank governor between 1921-1926, Mihai Oromolu, NEPI will develop an office building on three levels, with an approx. rentable area of 7,000 sqm. The parking places will be included on three underground levels, and between the buildings there will be a public space with pedestrian areas, an artesian well and Mihai Oromolu's bust.
The building will be restored, and the entire ensemble will transform into a public and business centre.  (source: economica.net)