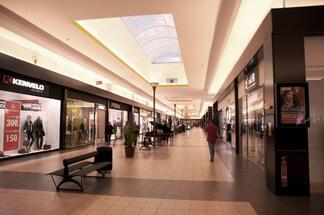 It opened for trading in November 2006 with 41,100m2 of GLA that comprised an Auchan hypermarket and adjacent gallery, and a DIY store, Leroy Merlin. Shopping City Sibiu was subsequently extended by adding a Carrefour hypermarket, fashion and sport brands, a large furniture store and white goods retailers.
Sibiu has a population of approximately 170,000 and is the capital of Sibiu county which has over 400,200 inhabitants. The city is an important cultural centre and also benefits from its modern infrastructure that includes three rail stations and an international airport with direct connections to many European countries and various national destinations.
Shopping City Sibiu is the first, and only, modern retail centre in Sibiu, and the largest retail park in Romania, with a diverse tenant mix, dominating retail in the region. It is located on the main Brasov artery, and is an eight-minute drive from the city centre.
The mall is anchored by two hypermarkets, Carrefour and Auchan, and includes numerous international brands, such as Adidas, Altex, Benvenuti, BSB, C&A, CCC, Coccodrillo, Decathlon, Deichmann, Diverta, dm, Douglas, Flanco, H&M, Hervis, Humanic, Kendra, Kenvelo, KFC, Lee Cooper, Marionnaud, New Yorker, Noriel, Orsay, Pepco, Salamander, Takko, Yves Rocher, and a wide selection of furniture and DIY stores including Jysk, Lems, Leroy Merlin, Mobexpert, Nobila Casa and Rovere Mobili.
The transaction value was EUR 100 million. The acquisition was completed on 24 June 2016. The commercial effective date is 31 March 2016. (source: bvb.ro)