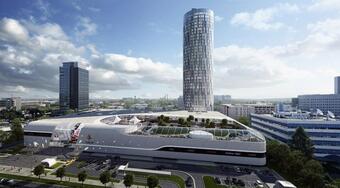 "The group intends to extend it with approximately 25,000 sqm GLA, including fashion, entertainment and leisure, and has acquired an adjoining 1.2 ha currently zoned for the development of 50,000 sqm of above ground offices. The group intends to apply for rezoning of the acquired land in order to develop a mixed-use extension with integrated A-grade offices," reads the report.
NEPI bought the 35,000 sqm mall from its developer Raiffeisen evolution at the end of October for EUR 148 million.  Raiffeisen evolution had invested EUR 130 million in the project. One month later it announced that it had completed the acquisition of approximately 1.2 hectares of land adjacent to the Promenada Mall from Romenergo Group controlled by Romanian businessman Dragos Bilteanu.
The South-African investment fund is presently developing the Mega Mall project in Bucharest which will be opened on April 23 and gave no timeline for the Promenada extension. It plans similar extensions for other commercial properties in its portfolio – City Park in Constanta, Deva Shopping Centre and Severin Shopping Center in Drobeta-Turnu Severin, all three of which are scheduled for completion this year.
NEPI is a commercial property company whose presently one of the largest real estate investors in Romania. It owns some 330,000 of commercial space the most important shopping malls in its portfolio being Promenada Mall Bucharest, Ploiesti Shopping City and Vulcan Value Centre in Bucharest. In addition to shopping centers, NEPI owns several office projects such as Floreasca Business Park and The Lakeview in Bucharest and City Business Centre in Timisoara.
NEPI's assets in region were valuated at EUR 1.57 billion at the end of 2014 after it completed/acquired nine new properties (seven of which were in Romania), according to the report. This was up by more than EUR 500 million y-o-y. Income from rents increased by 57 percent to EUR 87 million while the profit attributable to equity holders amounted to EUR 99.2 million, up by about 72 percent y-o-y.
NEPI was registered in 2007 in Isle of Man and is presently listed on the Johannesburg Stock Exchange the Bucharest Stock Exchange and the London Stock Exchange. The closing price on February 10 was EUR 9.44/share (the total number of shares in issue is approximately 278 million). (Source: business-review.eu)