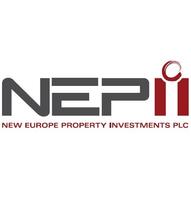 In the first three months of last year, NEPI registered a profit for its shareholders of EUR 24.3 million.
The gross revenues from rents have increased with 32 pct, from EUR 23.9 million to EUR 31.6 million.
Total assets were of EUR 2.3 billion in the end of March 2016, with 35 pct. growth compared to the end of last first quarter.
New Europe Property Investments is a group of investments listed on the Johannesburg Stock Exchange (JSE), London Stock Exchange (LSE), as well as on Bucharest Stock Exchange (BVB). The group was founded in 2007, and in Romania NEPI's portfolio includes Mega Mall, Mall Promenada, Vulcan Value Center, Timișoara Shopping City, CityPark Constanța, Ploiești Shopping City, Brăila Mall, Galați Shopping City, Shopping City Târgu-Jiu, Severin Shopping Center and other commercial centres in the country. The company also has real estate assets in Serbia and Slovakia.
NEPI has in its portfolio the office buildings Floreasca Business Park, The LakeView  in Bucharest, City Business Centre in Timișoara and The Office in Cluj. (source: profit.ro)