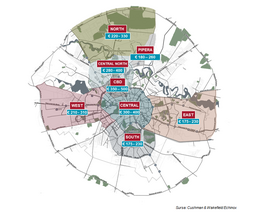 The study takes into account rental costs, service charge, operational costs (water, electricity, internet, supplies, cleaning, reception services), as well as the costs of space planning and furnishing, amortized over a period of five years - the average duration of a lease in the office space market in Bucharest.
The result is also influenced by the density of office space, with most companies allocating between 8 and 12 square meters per employee, including the share of common rented offices, such as conference rooms, kitchens or reception areas.
The most significant costs are those with net actual rent, which may vary between 8 - 17.5 euro / sq m / month, followed by the cost of furniture and fit-out, which varies between 300 and 750 euro / sq m, representing a cost of monthly amortization between 5 and 12.5 euro / sq m.
Taking these parameters into account, the occupancy costs per employee start at about 175-180 euros / month in areas such as South, East or Pipera North and may even exceed the threshold of 500 euros / month for employees working in the CBD (Victory Square - Aviatorilor - Charles de Gaulle Square). (source: constructiv.ro)