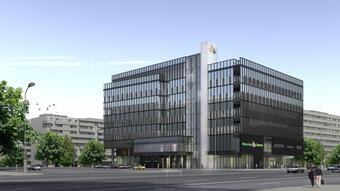 Following the recently obtained construction permit, the works for the reconversion of Moldova Mall in a retail and offices centre will start this week. The completion of the reconversion process and of the fit-out works is estimated for the first half of 2015.
MOLDOVA CENTER will have a total rentable area of 14,500 sq. m, with 11,600 sq. m are intended for office spaces, with a generous rentable area of approx. 2,350 sq. m per floor.  The project benefits from finishes and standard facilities for A class building and a series of green technologies, with the purpose of receiving the BREEAM "Very Good" certification.
The efficiency and the low energy consumption occupy and important places on the priorities list of the project, therefore the new spaces will be equipped with LED illumination system, BMS, modern air-conditioning and ventilation system and will benefit 360° natural light for all the floors.
"We took care that the architecture and fit-out project to include the best technical features. MOLDOVA CENTER addresses to companies targeting downtown, efficient headquarters with modern facilities. The project has all the premises to become a city landmark"- has declared the private investor Gheorghe Iaciu, the owner of the project, regarding the decision to invest in the building's reconversion.
This important offices and retail centre is situated on 1st Palat Street, one of the most prestigious area of Iasi, a city with one of the most dynamic developments on the Romanian office market.
Due to its downtown location and its height (GF+6F), Moldova Center offers a special view above the city of Iasi and its neighborhood.
The A class offices occupies 2nd to 6th floors of the buildings, while the ground floor and the first floor accommodate a generous retail area, with commercial spaces, restaurants, services, banking facilities, fashion, jewelry and cosmetics as well as a Billa supermarket,
The project has 230 car parking places and 80 parking places for bicycles and motorcycles.
Moldova Center is therefore an innovative and emblematic project for Iasi downtown, combining in a balanced way the office and retail spaces, perfectly answering the current development needs of the city. (source: The Advisers/Knight Frank)