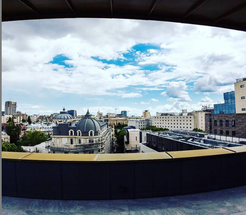 The SARS-COV-2 pandemic severely affected the office market, with the occupancy rate of office buildings declining sharply within a year of the state of emergency in Romania. Moreover, office owners compete with their own tenants in the market of rented spaces, registering the largest available area for sublease that has ever existed on the Romanian market, approximately 70,000 sqm, according to a study by real estate consulting company JLL , published in April 2021.
The occupancy rate of the Mendeleev Office 5 office building reached 70% following the two transactions.
How do you explain the success of this developer? One of the market advantages of the office building is its novelty and positioning. Mendeleev Office 5 is a boutique building of only 4,500 square meters, which was delivered to the market in early 2020, a delivery that, although coinciding with the establishment of the state of emergency caused by the pandemic, has an advantage over other competing buildings, that of novelty. This is also one of the main reasons why, at the time of delivery in 2020, the building was already 60% occupied.
Another advantage of the office building is its positioning. Mendeleev Street is one of the most central streets in Bucharest, providing quick access to important central junctions: Roman Square, Victoriei Square, University Square and Unirii Square. Companies that choose to move their headquarters to the ultra-central area benefit not only from quick access in all areas of Bucharest, but also from a business card for their customers. The headquarters, in a historic area, full of charm, with restaurants, cafes and hotels, in the vibrant heart of a city, is especially useful for creative and prime service companies.
Among the companies based here is Jazz Communication, an advertising company. The profile of the two new tenants of the building confirms this hypothesis. OTOTO Store is an urban supermarket with a prime concept, addressing the premium segment. It incorporates a café, and the products sold are new brands and brands recognized on the market. Another trendy element is the integration of a small bookshop and a cafe.
in-tech, the other tenant of the Mendeleev Office 5 building, is another "trendy" company, whose slogan is "Moving the Future". The company has the ambition to contribute to the development of the transport technology of the future, from complete autonomy to advanced digital solutions for car sharing and "green", electric technologies.
The office building has 8 floors, offering a breathtaking panorama: the center of Bucharest, with chic buildings and hidden gardens. Panoramic terraces are also an attraction for tenants in creative fields, who want to "inspire" their employees. Its design is tailored: spaces with natural light, golden accents on the facade, but also smart solutions in terms of state-of-the-art technology, including services such as electric charging for green cars.
The developer of this office project is Akcent Development, whose portfolio includes other boutique buildings in the center of Bucharest, such as Eminescu Offices and Rosetti Tower. Property management is provided by Cushman & Wakefield Echinox (source: Cushman & Wakefield Echinox)