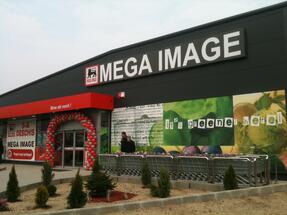 "For next year we will continue the same. We will invest around EUR 50 million and will open about the same number of stores. This number depends on the surface, so it can be 70-80-90 (sqm) … We will keep the same pace for the foreseeable future, which should be the next two years," Stavrou said.
Mega Image has opened annually between 70 and 100 stores. Last year it had aimed at 100 new units also, but reached 71.
For the next year the retailer will continue to expand in areas it's already present, such as Bucharest, Ilfov, Brasov, Constanta, Dambovita, Giurgiu, Ialomita and Prahova.
"The second Mega Image logistics center is under construction in Stefanesti. It is a EUR 22 million investment. The center will be opened at the end of the third quarter of this year," Stavrou added.
Mega Image recently opened its largest unit in Romania so far, the Concept Store in Baneasa, active since December last year. The company owns the building, the space used by Decathlon being rented.
"The investment for the building, not only the space where Mega Image is, but for Decathlon, was a total of about EUR 9 million, without taking into account the cost of the land," the director said.
The store in Baneasa, with an area of 2,100 square meters, is the company's fourth Concept Store in Bucharest.
Mega Image has been present in Romania since 1995 and is part of the Delhaize Group. Its aggressive expansion policy has recently taken its retail network to 471 stores. The retailer is present mostly in Bucharest, but also in cities like Constanta, Ploiesti, Pitesti, Brasov, and Targoviste. Delhaize is an international retailer from Belgium active since 1867 which operates on three continents. (source: business-review.eu)