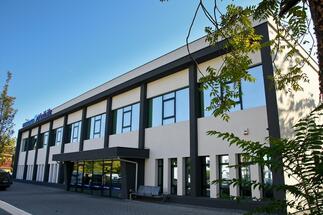 The clinic, covering 1,600 sqm, includes integrated ambulatory and imaging services, a laboratory, and next year will provide day hospitalization.
"Seven years ago we opened the first large clinic in Timisoara. During all this time our threshold was crossed by over 670,000 clients, and both their number and that of client companies are growing. This trend has encouraged us to expand and open the second large clinic – the Timisoara MedLife Hyperclinic on Eroilor de la Tisa Boulevard. Looking ahead, we intend to diversify even more the solutions that we bring to our patients, as evidenced by the fact that a month ago we announced the acquisition of the majority stake in Stem Cells Bank of Timisoara," said Mihai Marcu, head of the administration board of MedLife.
The unit has two floors spanning 1,600 sqm, a dedicated parking space and green area and its medical team is composed of 60 professionals. This is the second clinic the healthcare operator has in Timisoara, the first one being open in 2008.
MedLife is active in Romania since 2004 and currently has 16 units across the country, in Bucharest, Arad, Timisoara, Galati, Iasi, Constanta, Brasov and Cluj-Napoca. The company estimates a EUR 93 million for this year through organic growth. Representatives say that if transactions which are now undergoing are finished by the end of the year, the company's turnover will go over EUR 100 million. MedLife posted a EUR 67.8 million turnover for the first nine months, a 16 percent climb year on year, reaching 1.5 million retail clients and some 430,000 subscribers. (source: business-review.eu)