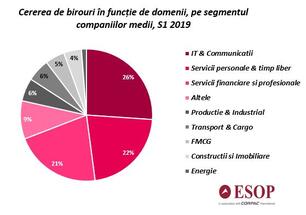 The most dynamic sector was that of companies offering personal services, for employees and leisure, which includes operators of gyms, medical or beauty salons, restaurants, cafes, bars, schools and private kindergartens, training courses, tourism etc.
The total area of the spaces rented by the companies that provide services for corporates increased by 32% compared to the same period of 2018.
"We are noticing a continuous increase in the field of services for corporates - personal services, for employees and leisure, a growing market of services offered at the workplace, especially in the ground floor area of the new individual office buildings or located in business parks in Bucharest and in the big cities of Romania. This field of corporate services has increased five times in size since 2010 and has increased as a percentage in the top of the fields from places six and seven, in 2010-2011, to the second place in 2018 and in the first half of 2019 ", says Alexandru Petrescu, Managing Partner at ESOP Consulting l CORFAC International.

In the first six months of 2019, the 2nd place on the podium, with a weight of 22%, was occupied by SMEs offering personal services, for employees and leisure. The first place was awarded, at a short distance, by the SMEs in the field of IT & C and BPO (with 26%) and the third place in the field of financial and professional services (with 21%).
In the first half of 2019, companies providing services for corporates mainly chose the office buildings in Bucharest (82%), the remaining 18% being divided between big cities such as Cluj Napoca, Timișoara and Iași.

Office buildings chosen by medium-sized companies offering corporate services in the first half of 2019 include Equilibrium 1, Record Park, S - Park, Hexagon Office, Iride Park, Swan Office Park, Metroffice, Expo Business Park, Elefterie BC, Forum, Unirii View, Lamda BC, Floreasca 133-137. (source: Esop)