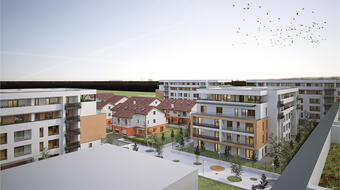 The complex will include 6-floor buildings, and will have 182 apartments in total.
The project will be developed on the land that was previously owned by the Israeli group New Horizon, which wanted to build the Odyssea Residence project here. The company went bankrupt in 2013.
The apartment blocks are being built in the Gheorghe Sisesti area. Swedish group Vastint also bought land here to build residencies.
Zacaria Group has begun the construction of the first building this spring. The building has 40 apartments and will be completed next March.
Zacaria Group has been active for over 11 years in Romania. It is part of the Maltese Alf Mizzi & Sons group. The company has developed residential projects in Sibiu, and has a portfolio of logistics space in Sibiu, Arad, Oradea, Craiova, with a total area of over 150,000 sqm. (source: Romania-insider.com)