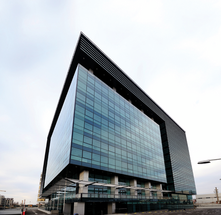 The transaction represents the rental for five years period of an office space with possibility of expansion, in the second floor of Cubic Center.
"Luatel's main objective of the development plan for the next five years is the expansion of its operations in Romania, and a first step in this respect is the inauguration of the new headquarters in Cubic Center.
Moreover, Luatel targets the growth of its operational team from 500 employees in present, worldwide, to 3,000 employees in the next two years", has declared Swen Philippe Moritz, CEO Luatel.
Crosspoint Real Estate has also brokered the rental in Cubic Center of a space of approx. 1,000 sq. m for Promideea, one of the most important international players on promotional materials market.
Cubic Center has a rentable office space of 25,300 sq. m, disposed on 12 floors and served by 507 underground parking places and 50 outside parking places. The commercial space in the ground floor, with an area of 1,200 sq. m is used for corporate events and festive events on weekends.
The conference center on the 12th floor totalizes 1,000 sq. m and is the perfect solution for events, seminaries or trainings. Cubic Center includes the office of several well-known companies, such Agricover, Patria Credit, Promideea, OBI, Scala Events and the upper floors of the building offer an impressive vue of the Northern Bucharest.
"The office market had a very dynamic first half of year in 2014, considering that most of the contracts signed in the period 2007 - 2009, at higher rent levels, reached their maturity. A number of support businesses which now enter Romania, as well as the increase of the companies' operations already present on the local market, show the growth of net request for the next half of year. A major share in the transactions of the first half of 2014 was represented by the pre-rents, situated on an ascendant trend", has declared Laura Berezitchei, Associate – Office & Commercial, Crosspoint Real Estate. (source: Crosspoint )