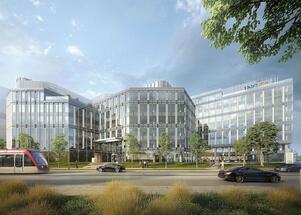 The value of the transaction could be over 120 million euros, but it will be conditioned by a high rental rate of Expo Business Park, currently being leased by about 75%, among the tenants being ING Bank, which will occupy a building of 20,000 sqm, but also Stradale, World Class, 1 Minute and Spaces.
The investment fund took over last year another office project developed by Portland Trust, namely Oregon Park.
Expo Business Park will include three buildings, the one rented by ING Bank will be ready this spring, and the other two (with a total area of 22,000 sqm) are scheduled for delivery in June 2019. IT is the first project delivered in Expozitiei area, a new emergining business pole in Bucharest.
Lion's Head Investments, a company owned by South African life insurance firm Old Mutual and Bulgarian developer AG Capital, bought in the second quarter of last year from Portland Trust and Ares Management the Oregon Park office project in northern Bucharest. The transaction value was estimated at 160-170 million euros.
Besides Oregon Park, Lion's Head Investments also owns two office buildings in Sofia - Polygraphya Office Center and Megapark. In total, the company has a portfolio of five buildings with a leasable area of 235,000 square meters, with a value of 310 million. (source: economica.net)