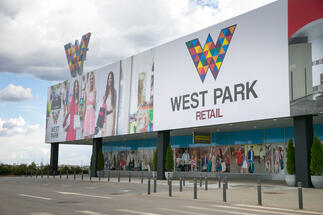 The retail park has a GLA of 74,500 sqm GLA and in addition to Fashion House Outlet (20,300 sqm), it includes a Hornbach DIY store (19,960 sqm), a KIKA furniture store (28,740 sqm) and a Proges home decorations store (1,340 sqm).
"Taking into account the improving economic situation, we believe that the concept of retail parks – in which different retailers share one infrastructure – has a great future in Romania. We are repositioning West Park as a 'lifestyle destination'," said Patrick Van Den Bossche, the managing director of Liebrecht & wooD Group.
Fashion House Outlet presently has an 88 percent occupancy rate, but company representatives say this will increase over the next months as new leasing contracts will be signed. Some of the most recent tenants in the center include Guess, Mustang Jeans, Intimo, Nissa, Napoleoni and Cielo Venezia.
The combined turnover of retailers present in the outlet reported a double digit growth in 2014 against the previous year, added Van Den Bossche.
Delivered in 2008-2009, West Park is located a 20-minute drive from Bucharest's city centre on the A1 highway. So far, Liebrecht & wooD says it has invested some EUR 50 million in the project. The developer has space to develop an additional 20,000 sqm (GLA) and says it will continue to invest in expanding the park.
It also plans to build a second Fashion House outlet in Cernica, part of a EUR 110 million retail park, and also a residential park in Frumusani, south of the capital.
Liebrecht & wooD has been present in Romania since 2001. Other projects developed locally include Victoria Park and the first phase of Militari Shopping Centre which the company sold to Immofinanz and Atrium European Real Estate, respectively.
The developer says it has invested some EUR 200 million in Romania so far. It is also present in Poland and Russia. (source: business-review.eu)