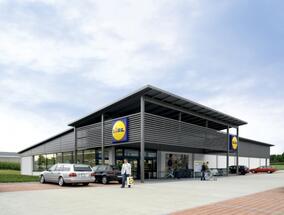 Lidl bought a plot of land in Baneasa Bridge area in Bucharest in 2014 and announced its intention to build the concept store and a green headquarters for the company, an office building targeting a BREEAM Excellent certification.
The constructor of the project would be Skanska, the work being its first as a constructor on the local market, the company holding two divisions – real estate development and construction.
In autumn 2014, the local press was writing about the building of the bread factory Baneasa, demolished in order to make room for a new office building and a store the German retailer Lidl was to build on a quarter of the five hectares of the former factory in northern Bucharest.
According to data obtained at that moment, there are 12,000 sq. m, an area evaluated at that time to nearly EUR 4 million.
Lidl is currently operating in Pipera Business Tower building in Dimitrie Pompeiu area in northern Bucharest.
Lidl ended 2015 with 192 retial units in Romania, the last opened store being opened in Suceava. (source: wall-street.ro)