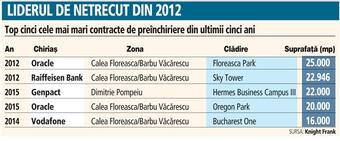 The top areas for pre-rentals are Calea Floreasca - Barbu Văcărescu, with 58 pct. of the total, followed by the area Centre-West, with 21 pct. and Dimitrie Pompeiu with 18 pct.
The companies in IT&C field took over 60 pct. of the pre-rentals in the office market, followed by far by the banks.
"The top is due to deliveries in the mentioned areas as well as to the high request for them. The tenants are able to secure new spaces, according to the specific technical requirements of the company, as well as favourable offers which include both slightly lower rent and other facilities, representing advantages of a pre-rental transaction.
Often the pre-rentals have the purpose to consolidate the tenants in a sole location. The pre-rental transactions are significantly more complex and the duration of their completion is longer, too", said the representatives of Knight Frank.  (source: zf.ro)