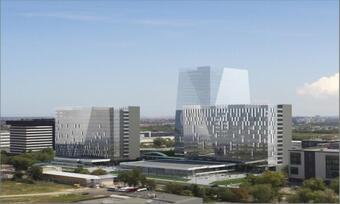 The company, whose name was not made public, will take over 25,000 sq. m in the project with the rentable area of more than 1000,000 sq. m offices. The total investment in the project reached almost EUR 100 million.
Previously, information appeared according to which Deutsche Telekom would become the tenant of the businessman in the conditions of the merger of Romtelecom with Cosmote. Dolce Sport (Romtelecom) has already rented 2,000 sq. m offices in BOC offices, also owned by Globalworth.
The new office project, Globalworth Campus will be developed on a plot of land bought by Papalekas from the owner of Farmexim in Pipera.
The land is situated near the Upground project which includes the office buildings BOB and BOC. For this project, the most recent announcement of the company said that a bid was won for a contract signed for 10 years for an area of 25,000 sq. m. In the release it is mentioned that in September the lease agreement will be also signed. The contract leads the occupancy rate of the future project to almost 24 pct before the construction has begun.
Regarding the calendar of works, the transformation of City Mall to office spaces will be completed by the end of the year and the construction of Bucharest One, the new headquarters of Vodafone, will be completed by the end of next year. (sursa: wall-street.ro)