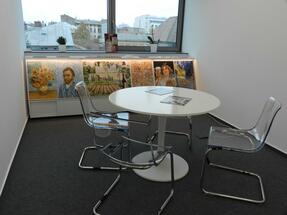 "Our new centre in Maria Rosetti Tower is a top centre, having as neighbours in the building well-known companies such as CNN and Discovery and our clients already including three companies in different fields, accounting, luxury finishes and IT, considering we have just opened it on November 1st. We intend to bring in the future in Flash Office II centre entrepreneurs from different domains, providing for them ready-made offices, free access to conference room, relaxing area and functional kitchen, also offering the possibility to work together and interact one with another, considering the way the space was designed", has declared Jose Ignacio de la Torre, General Manager of Flash Office Solutions.
Among the first clients to join Flash Office Solutions centre in Maria Rosetti Tower is Cameleonia, sole representative in Romania of the Spanish studio Artelux, specialized in customized ceramic tiles decorations, manually painted using old techniques from more than 500 years ago.
Cameleonia has set in Flash Office Solutions centre its first showroom in Romania.
"Our target is a business target, represented mostly by architects and designers.  We chose the instant offices within Flash Office Solutions centre because they offered us exactly what we were looking for, a personal space, ready-made, very bright, where to show our products, as well as access to a meeting room with a video projector, where we could continue our negotiations and presentations in a business environment, both within a fixed budget, without other maintenance costs, cleaning and without the care of supplies, a very important aspect for a starting project, in development. The location is also extraordinary, being downtown, very close to Magheru Blvd and important institutions such as The College of Architects, which was important in our case", has declared Dragoș Antonache, general manager of Cameleonia.
The second centre of Flash Office Solutions, situated in the office building Maria Rosetti Tower is operational since November 1st and has a total area of 392 sq. m, with expanding possibilities, being the second instant offices centre developed by this brand in Romania, the first being opened since the beginning of the year in the building Armand Călinescu 26.
Flash Office Solutions in Maria Rosetti Tower offers instant offices on different sizes, from registered offices and shared desks to ready-made individual offices, with generous areas, completely furnished and IT infrastructure equipped.
The centre includes a reception, a meeting room with a video projector, a relaxing room and a modern kitchen where the coffee, water and fruits are free for the members.
Flash Office Solutions is a last generation instant & serviced offices centre, providing the clients with completely equipped and furnished offices at fixed prices for very flexible periods, with all the services necessary for the highest professional standard.
The company Flash Office Solutions was founded in 2013, and the first operational location with instant offices is available in Armand Călinescu 26 building. The second location, in Maria Rosetti Tower is operational since November 1st 2014.
Flash Office addresses both to those needing an address for a start-up or a local branch, as well as to the companies looking for a ready-made office in a representative building, with a modern space and IT&C support, Wi-Fi, receptionist, access to an equipped conference room, without the care of the maintenance and services costs. Flash Office Solutions provides to its clients services of INSTANT&SERVICED OFFICES, with access to kitchen, administrative support, cleaning services and underground parking. (source: Flash Office Solutions)