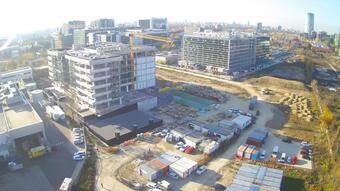 Metroffice is located in the Dimitrie Pompeiu area of the capital and will consist of three buildings spanning a gross leasable area of 40,000 sqm. The office scheme is expected to provide work spaces for about 5,000 employees.
Following a EUR 34 million investment, structural works on the first section were completed. The building will have six floors (ground floor + mezzanine + 4 upper floors) and total rentable space of nearly 20,000 sqm. This is the largest of the three Metroffice buildings.
The general contractor for the Metroffice project is PORR Construct.
Over the next decades, the larger Iride City project, which includes Metroffice, calls for a mix of office space, restaurants, a hotel and conference center, a day-care center, a park and sports facilities. The company with plans for LEED certification and the usage of a green roof.
The entire project includes the refurbishment of the current Iride Business Park, the largest business park in Bucharest and one of the longest-standing addresses in the northern city business district. Iride Business Park, sitting on 17 hectares of land, currently offers approximately 93,000 sqm of rentable area in 20 buildings, ranging from one to eight floors in size. When completed as a modern urban quarter, more than 20,000 employees will call Iride City their workplace.
Immofinanz is a commercial real estate company whose activities are currently focused on the retail and office segments of eight core markets in Europe: Austria, Germany, Czech Republic, Slovakia, Hungary, Romania, Poland and Moscow. Its core business includes the management and development of properties. The company has a real estate portfolio of approx. EUR 6.6 billion that covers more than 440 properties. (source: business-review.eu)