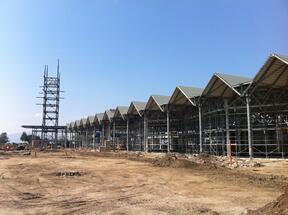 The most recent tenants are H&M, which has leased 2,200 sqm and iStyle, Apple Premium Reseller. Previously signed tenants include Inditex, Kenvelo, Flanco, and Yves Rocher.
"Right now, medium sized spaces of between 500 sqm and 1,000 sqm are no longer available," said Tatian Diaconu, the general director of Immochan Romania. As a result the developer is "considering starting works as soon as possible on the second phase" – a retail park – which will host retailers looking for spaces of over 1,000 sqm.
The EUR 60 million first phase of the Coresi Brasov real estate project will be delivered in the first quarter of 2015.
It will comprise an Auchan hypermarket (13,000 sqm) and a commercial gallery (32,000 sqm) which in turn will feature some 130 stores, a cinema multiplex (8 projection rooms), a food court (3,500 sqm) and an entertainment area (1,500 sqm), the developer has previously announced.
Because of the new concept it proposes, that of a 'shopping resort', the opening of "Coresi Brasov will mark the launch of the new generation of shopping malls in Romania and will open a new road for local developers to follow", said Immochan representatives. There is greater focus on the entertainment component and the project aims to attract shoppers by "offering them more than a destination to shop". (source: business-review.eu)