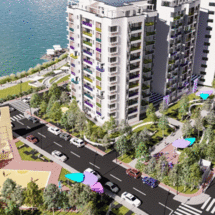 To present, Estic Park attracted investments of over EUR 26 million, with EUR 6 million allocated for the first building. The project will be launched at the National real Estate Fair (tIMOn), which will take place in Constitution Square between October 20-23.
The residential complex, whose development consists of four main stages and is spread over 6 years, aims to become a pole of attraction for the north-eastern area of Bucharest, through the general facilities it will offer. The facilities will include a walking area on the bank of river Dobroesti, a services and shopping area and sports fields.
Coldwell Banker Romania acts as the consultant for Estic Park during the project phase and exclusive agent for Developer Eagle Development Estate, Israel Land Development Company (ILDC).
Eastern Park is located in Bucharest's Sector 2, at the crossroads of Pantelimon and Dobroesti roads, on the bank of lake Dobroesti.
"We redesigned the whole residence complex and added many facilities out of the desire to create an integrated concept (…) In addition, the current residential market has more solid foundations, the existing demand today is much more solvable compared to 2008, with the availability of buying a new home being better," said Joseph Cohen, ILDC Romania president. (source: business-review.eu)