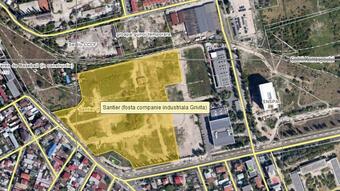 The company Bluerose Ro Corporation, owned in 50/50 shares by Rosebud Real Estate and Bluehouse Capital, owns in Bucharest a land where intended to develop a mega office and residential project, with an investment planned for EUR 320 million. The construction works should have taken five to six years.
The land was the most expensive considering the price per sq. m – EUR 1,200. If to consider the price paid for the entire land, the transaction is situated on the third place, after the EUR 90 million land of 11 ha bought by Raiffeisen Evolution from Petrom and the 15.5 ha land from Laromet factory bought by AFI Europe with EUR 77.5 million.
The land is situated in 68 Clăbucet St., at the crossroad with Bulevardul Expoziţiei, behind Romexpo. Bluerose Ro Corporation obtained in January this year the detailed urban plan, including the construction of office buildings, hotel, residential and services, with different heights, from two eight, ten, 12, 14, 17 floors buildings to a tower on 30 floors.
The real inventory value of the land at 31st of December 2013 was EUR 58.5 million, with 20 pct. lower compared to moment of acquisition. The moment of starting works was not yet revealed. (source: economica.net)