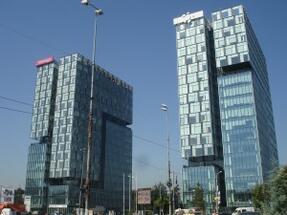 "In December 2015, the company took over the remaining 41.1 pct. of the company BCG (the owner of the company owning the office project City Gate) for a total amount of EUR 18.1 million, paid in January 2016", a company report shows.
City Gate was delivered in 2009 and has an area of 47,692 sq. m, 93 pct. rented. The project was evaluated in the end of last year with EUR 146.1 million, compared to EUR 148 million in December 2014. The project, made of two buildings, generates an average rent of ERU 19/sqm/month.
Bluehouse also sold last year the office building Victoria Center in Bucharest and is still the owner of the Olympia Tower office building in Piața Muncii, also in Bucharest.
GTC is one of the oldest real estate developers on the local market, with total investment of more than EUR 400 million. Nearly 39 pct. of the GTC portfolio which generates revenues is situated in Poland, 20 pct. in Hungary, 14 pct. in Romania and 12 pct. in Serbia.
GTC had in the end of last year a total portfolio of EUR 1.3 billion and operational revenues of EUR 117.4 million. (source: profit.ro)