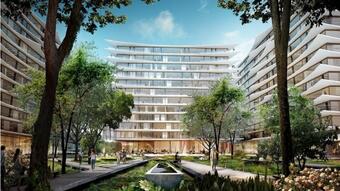 The company bought 1.5 ha for which it paid 10.5 million Euros, according to official GTC data, and plans to build a project with three office buildings and a leasable area of 46,000 sqm and 920 parking spaces . In total, with the acquisition of the land, GTC will invest 89 million Euros in the new project, called City Rose Garden.
The company expects an investment yield of 10% and a net operating income of 9 million Euros. The project will be completed in the period 2019-2020 and it is in the planning stage, alongside seven other real estate projects in Hungary, Serbia, Croatia, Bulgaria and Poland, where GTC plans to invest 540 million Euros.
GTC is currently developing five real estate projects in Poland, Serbia and Hungary, with a total investment value of 402 million Euros.
On the local market, GTC owns four office buildings. The most recent purchase has been made recently. The company bought 9 million Euros in the Cascade Office Building. Last year, the company also acquired Premium Plaza and Premium Point buildings for 32 million euros. The GTC portfolio in Romania is also part of the City Gate project at Press Square.
At the end of 2015, GTC bought the Bluehouse Capital part of the City Gate project for 18 million Euros and became the only owner of the buildings. The GTC also gave up this year's partnership with businessman George Copos, who also planned to build an office tower, also in the Press Square area. (source: economica.net)