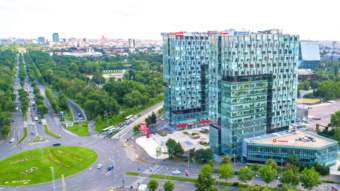 The end of 2021 was a fruitful period for GTC Romania that welcomed 3 new tenants in the City Gate Project including: ZIM Integrated Shipping and Bachmann Romania.
ZIM Integrated Shipping Services is an international cargo services company that will choose to relocate its Romanian offices to City Gate South Tower. Bachmann Romania, a company that operates in the electrical engineering sector and is present in 7 countries across Europe, will occupy the ground floor of the complex. The new tenants will move into their new offices in the first quarter of 2022.

"Romania is an important market for Bachmann. After opening our first showroom in London in November 2021, we decided to replicate the concept in Romania. We are confident that the location we selected in City Gate - owned by GTC, with whom we have a solid partnership - will help us promote our business and our capabilities. The showroom will allow us to demonstrate first-hand our products to all partners, including various new technologies developed right here in Romania, in our production facility in Medias. We are also confident that GTC's experience in managing and developing office and mixed-use projects will benefit the activity in our new showroom," stated Răzvan Dumitrache, Country Manager Bachmann Romania.
The last quarter of 2021 was a good period not only for signing new partnerships, but also for consolidating relationships with previous tenants. One of the biggest global home appliance producers, Miele, signed a five-year lease extension for its 614 sq m space in City Gate South Tower, where the company has a showroom.
"We have been partners with GTC for 8 years and we were grateful for the good collaboration, so the extension of the lease is definitely a reason to celebrate the trustful partnership," stated Dragos Grigore, Miele Romania.
Keyence, a leading supplier of sensors, measuring systems, laser markers, microscopes, and machine vision systems worldwide, is another company that decided to extend with 5 years the lease for the 380 sq m office spaces occupied in City Gate – South Tower.
Premium Plaza also welcomed a new tenant, which signed an agreement for 516 sq m, and will move in February 2022 to their new offices. The company is part of a global healthcare group offering high-quality products and services.
"I am very pleased because not only that we have managed to keep our tenants close, but we have set the basis for what I hope to be strong and long partnerships. I believe these signings are a signal that the market is recovering, and that the companies and their employees are coming back to offices, even if the way we work has changed. Also, for GTC, it is also a sign of renewed tenant interest in healthy and modern class A office spaces, adapted to ESG norms, that respect the environment and ensure a safe working environment for the people, especially in this period. GTC proved again that it is not only a building owner or developer, but a true partner for its tenants and I am grateful to all our Romanian team and partners for this new accomplishment," stated Ziv Gigi, Managing Director of GTC's operations Romania.
City Gate is a landmark office building located in the North of Bucharest, near Piața Presei Libere, with easy access to business and recreational facilities grouped around the Herăstrău Park and office hubs like Piața Victoriei. The facility offers 48,000 sq m of modern office space, tailored to suit various tenants' needs.
Premium Plaza is located in Victoriei Square, the financial and administrative center of Bucharest, and occupies a total leasable area of 8 500 sq m.
GTC Group was founded in 1994 in Poland and is a public company, listed on the Warsaw and Johannesburg Stock Exchange and one of the largest developers of commercial and office spaces in Central and South-Eastern Europe, active in six countries: Poland, Romania, Hungary, Croatia, Serbia, and Bulgaria. GTC Group has a portfolio of projects valued at almost 2.3 billion euros, which includes 46 buildings and 1,300,000 square meters. The company entered the Romanian market in 1999 and has fast become one of the most important real estate developers locally, with a portfolio consisting over time of both office buildings, shopping centers, and residential complexes. The company developed and sold the emblematic America House and Europe House office buildings, located in the center of the capital.
Among the GTC projects, currently owned by the company in Romania, are the City Gate office complex (the first functional office project in Bucharest that obtained LEED GOLD certificates in 2013), Premium Plaza, Cascade, Premium Point. GTC Romania's vision is focused on the sustainability of constructions and on the transformation of the way buildings are designed, developed and managed, so as to contribute to the creation of a healthy environment and to increase the quality of life.