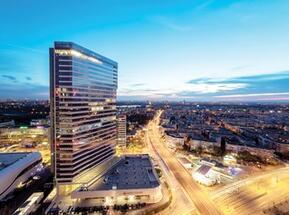 The bonds have a maturity of five years, maturing on 20 June 2022, and a fixed annual interest rate of 2,875%, payable annually starting on 20 June 2018.
The company requested the admission of the bonds on the Irish Stock Exchange's official listing and trading on the regulated market.
The company also announced that funds attracted by the issue of bonds will be used to pay off company debts, but also for other purposes.
Deutsche Bank, J.P. Morgan Securities and UBS were brokers, and BT Capital Partners and Rand Merchant Bank, a division of FirstRand Bank Limited (London Branch), were commissioners.
"This transaction greatly simplifies the structure of our debt and significantly reduces the average cost of debt, while allowing us to strengthen our position so that we move to the next level of development not only in Romania but also in Central and Eastern Europe and mainly in Poland", said Deputy General Manager and Investment Manager at Globalworth, Dimitris Raptis.
Since the foundation of Globalworth in February 2013, investments have reached around 814 million Euros, of which 244 million were spent on completion of the acquisition of four "A" class office buildings in Bucharest.
Currently, the company owns a portfolio of about 1.1 billion Euros. (source: news.ro)