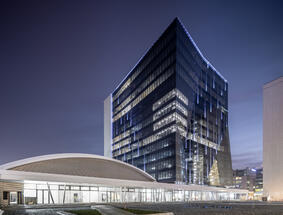 As the office market leader in Poland and Romania, the two largest markets in CEE, the company adopted a very cooperative approach with its tenants, understanding their needs and offering flexible and smart solutions, particularly in this period of higher uncertainty due to the Covid-19 pandemic.
In 2020 Globalworth successfully took-up or extended/renegotiated c.303.5k sqm of commercial spaces in our portfolio of high-quality properties, representing c.25% of our total standing commercial GLA. This represented the highest volume of leasing activity which it have ever achieved, mostly attributed to the successful negotiations with its existing tenants who appreciated its collaborative and flexible approach.
The very strong tenant relationships were also confirmed in the company's standing commercial occupancy, which remained high at 90.9% (91.7% including tenant options) as at year-end, impacted however by the delivery of properties under development still in lease-up stage and a 3.3% decrease in like-for-like occupancy due to the very challenging market conditions.
"Despite the significant disruption in the economic and social activity during most of 2020, I am pleased to report that our core strengths and competitive advantages have resulted in a very resilient operating performance and financial results. At the same time, we kept close to and supported our clients and the broader community within which we live and operate, reinforcing our position as THE landlord of choice in our home markets. Whilst 2021 will continue to present a number of challenges, I firmly believe that the worst is behind us and I am confident and excited about the opportunities that lie ahead of us", said Dimitris Raptis, CEO of Globalworth Group. (Source: Globalworth)