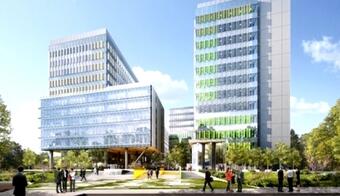 The two companies have reached an agreement for the transaction one year and a half back, initially the parties announcing the closing of the deal this spring.
The announcement of the transaction completion comes one day after Globalworth published a press release announcing a short term financing of EUR 45 million from two of its shareholders, the Amercian groups Oak Hill and York Capital. Globalworth have announced that the funds were attracted both  for financing the construction of the office tower Bucharest One, as well as for other development projects or acquisitions.
The first building within Green Court project has a rentable area of 19,500 sq. m and was inaugurated last October. The building is currently fully let, main tenants including Schneider Electric and Orange. 
 Moreover, Globalworth also announced the closing of a financing line of EUR 27 million, contracted from BCR.
Globalworth is one of the biggest real estate investors in Romania, with a portfolio of approx. EUR 757 million. The buildings bought in the last years by Papalekas also include UniCredit Tower, Tower Center, Cathedral Plaza or City Mall. (source: zf.ro)