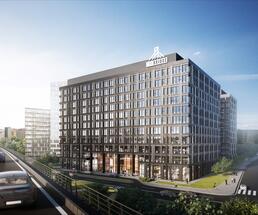 The business park will be developed on Orhideelor Road, on the plot of a former bread factory, in two phases. The first phase includes a building with two underground levels, ground floor and 20 upper floors, with a GLA of 36,189 sq. m.
"I am happy to announce today the obtaining of the construction permit and the starting of works for The Bridge project, a major investment on the Romanian real estate market," said Geo Mărgescu, Founder & CEO, Forte Partners.
The offer brought by The Bridge on Bucharest office market is extremely competitive, both due to large office floor plate– 3,000 sq. m, which allows tenants' horizontal consolidation and to technical specifications respecting the most severe field's standards. The generous area of a single level allows a density of 6.5 sq. m for an employee, unlike the 8-10 sq. m the current average in the market.
The Bridge is designed taking into consideration the last trends worldwide regarding the ecological buildings, the future business centre being scheduled for LEED GOLD certification. The company in charge with the design and the green certification is Epstein.
The future tenants will benefit from important savings in maintenance costs due to the developer's investment in advanced systems which lower the energy consumption. The delivery of the first phase of the project is scheduled for the last quarter of 2017. (source: Forte Partners)