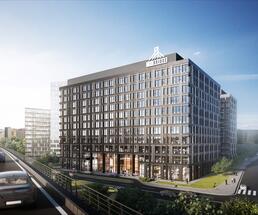 Real estate developer Forte Partners will develop the first stage of its The Bridge office project with a EUR 50 million loan granted by UniCredit Bank.
Geo Margescu, the CEO and founder of Forte Partners, said that 50 percent of the project has alreay been leased and the plan is to reach a 100 percent occupancy rate before the opening day.
Margescu said the project has a market value of EUR 80 million in the first stage.
The Bridge is being developed on Orhideea Road 15C, on the grounds of the former bread factory Spicul, in two stages. The construction works should be completed by September 2017 and the main contractor is Bog'Art.
Forte Partners has been founded in 2014 and its portfolio includes office and premium residential projects, but also pieces of land for future developments.
BCR, the lender controlled by Austrian Erste Bank, said in April it would relocate part of its staff from its HQ in Bucharest Financial Plaza (BFP) to The Bridge business park, which is currently under construction in the Grozavesti-Orhideea area.
Law firm Reff&Asociatii assisted Forte Partners on the financing deal, while UniCredit Bank got Tuca Zbarcea & Asociatii. (Source: business-review.eu)