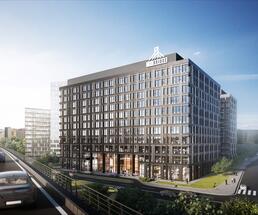 "2016 was a very good year for us, we completed the first building under our own brand: the Ștefan cel Mare, fully let and we started the construction works for the business park The Bridge, for which we signed the largest transaction in the office market last year, with BCR, 18,000 sqm", has declared Geo Mărgescu, CEO & Founder, Forte Partners.
Ștefan cel Mare project was awarded the Best Small Office Development of the Year during CIJ Awards 2016. Moreover, the building received the green award BREEAM, with "Very Good", Design rating.
Construction works for The Bridge are in schedule, currently eight levels form the total of 13 (2UG+GF+10) being already erected. Keeping the ecological values of the Forte group, The Bridge project will also be awarded with green certificate.
The completion of the first phase is scheduled for this autumn.
"Plans for 2017 include the delivery of the first phase of The Bridge business park, as well as the beginning of works for its second phase, a project of 20,000 sqm for which the necessary permits were obtained, we will soon also get the construction permit", added Geo Mărgescu. (source: Forte Partners)