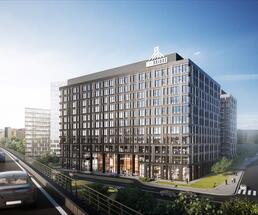 The auction process started in December last year and targeted the selection of a company with experience in sophisticated real estate projects. The extensive portfolio of Bog'Art, the construction solution that allows a rapid execution as well as the competitive offer were the elements that determine its' selection by Forte Partners.
"Bog'Art will be responsible for the first phase of the project, a building with two underground levels, ground floor and ten floors, with a total built surface of 52,000 sq. m.", said Geo Margescu, CEO & Founder, Forte Partners.
For the construction of this building, the company will use an innovative system that combines monolith with the pre-fabricated elements. The building will benefit of an impressive reception of 10 m height, as well as an interior courtyard that will offer the employees working in this business park recreation and entertainment spaces in the middle of nature. Bog'Art is one of the most experienced construction companies from Romania, with an activity of over 25 years on the local market and complex projects in its portfolio.
The Bridge is designed taking into consideration the latest worldwide trends for green buildings, the business park going to be certified as LEED GOLD. The architecture firm which designed the project is Epstein, the company being also designated as LEED assessor for this business center. The future tents will benefit from major reduction of maintenance costs due to the developer's investment in performing systems, which reduce electrical and heating energy costs.
The business park will be erected in two phases on 15, Orhideelor Street, on the land of the former bread factory, Spicul. The estimated delivery date for the first phase is September 2017. In april 2016, Romanian Commercial Bank signed a lease cotract for 18,000 sq. m. BCR is to consolidate here its Bucharest business head office premises on five floors and will also open a retail unit at the ground floor. (source: Forte Partners)