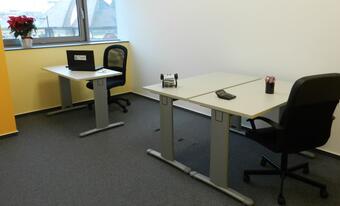 The price includes a furnished office with IT infrastructure, situated in a common space, all the costs related to charges and utilities as well as current services in connection to a modern working space – internet connection, security, reception, kitchen etc.
Apart this hub, in the same centre situated in Maria Rosetti Tower, Flash Office Solutions also rents individual offices with areas between 12.6 sq. m to 69 sq. m and capacities of 1 to 15 employees, ensuring all services and facilities needed for a modern office – reception, meeting room, equipped kitchen, relaxing space.
"We intend that by Flash Office Solutions to cover the entire range of instant offices available in the large cities of the world. The keyword is diversification of the space offer as well as of the bussines types we address, from artists and artisans, architects, lawyers, financial consultants to  IT, human resources companies and the list is always staying open.
The instant office concept is very new, not only in Romania but everywhere in the world, and is precisely why is like a gadget on the office market and is always bringing a newer version. In the two centres from the premium office buildings Armand Călinescu 26 and Maria Rosetti Tower we have individual spaces ready to move in for companies with 1-3 employees, IT companies with over 10 employees, consultancy companies with part-time, and from now on we will also have common working spaces in a last generation hub, to be designed according to our clients needs.
 Flash Hub addresses all those looking for a working space with a fixed price and all the facilities included and who wish to be part of a community, an active working group, in a continuous business interaction", has declared Jose Ignacio de la Torre, General Manager of Flash Office Solutions.
The Flash Office Solutions centre in Maria Rosetti Tower is 45 pct occupied, the companies operating here in individual offices including Cameleonia, sole representative in Romania of the Spanish Artelux, specialized in hand painted ceramics decorations, Torn HVAC Solutions - Mitsubishi Electric and Climaveneta dealer and two IT companies: Starhome and Ericom.
The second Flash Office Solutions centre, situated in the office building Maria Rosetti Tower, where the Flash Hub will also be included, is operational since November 1st and has a rentable area of 392 sq. m, with possibility of expansion.
Flash Office Solutions in Maria Rosetti Tower offers instant offices on different sizes, from registered offices and shared desks to ready-made individual offices, with generous areas, completely furnished and IT infrastructure equipped.
The centre includes a reception, a meeting room with a video projector, a relaxing room and a modern kitchen where the coffee, water and fruits are free for the members.
Flash Office Solutions is a last generation instant & serviced offices centre, providing the clients with completely equipped and furnished offices at fixed prices for very flexible periods, with all the services necessary for the highest professional standard.
The company Flash Office Solutions was founded in 2013, and the first operational location with instant offices is available in Armand Călinescu 26 building. The second location, in Maria Rosetti Tower is operational since November 1st 2014.
Flash Office addresses both to those needing an address for a start-up or a local branch, as well as to the companies looking for a ready-made office in a representative building, with a modern space and IT&C support, Wi-Fi, receptionist, access to an equipped conference room, without the care of the maintenance and services costs. Flash Office Solutions provides to its clients services of INSTANT&SERVICED OFFICES, with access to kitchen, administrative support, cleaning services and underground parking. (source: Flash Office Solutions)