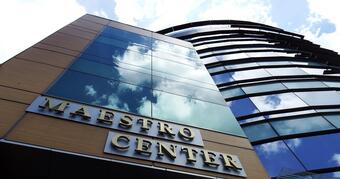 Maestro Business Center is located in the central area of Cluj, with international tenants such as Steelcase, IBM, PwC, Hewlett Packard and Global Convergence on a surface total leasable area of 6,845 square meters. The project currently has a 100% occupancy rate.
"I am very pleased with the investment made by us and our clients in this well-located office building in downtown Cluj-Napoca, a rapidly growing city that sustains both rents and capital increases", says Ben Habib, Group Chief Executive at First Property Group.
Anca Svoronos, Senior Associate Investment & Debt Advisory at Colliers International Romania says other office transactions are expected to be signed on the Cluj-Napoca market in the near future.
"The yields are attractive, the products are of very good quality and the demand is still strong, all of which create the premises of an attractive investment for any investor. Compared to Bucharest, the Cluj-Napoca office market is a growing market dominated by local capital. The potential of the region, however, is strong in many ways, and the entry of the British fund through the acquisition of Maestro Business Center marks a change in the pattern of investors present and supports the good evolution of the market. This phenomenon will gain momentum because the fundamentals of the market are solid, but also because the stock of buildings becomes competitive for any other similar asset in Bucharest", explains Anca Svoronos. (source: wall-street.ro)