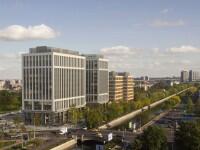 This phase reaches 53,000 sqm and includes in  total  three  mid-rise  buildings  of  50,000  sqm of office space and 3,000 sqm of retail space.
The total planned area of the complex is of up to 100,000 sqm GLA of class A office, commercial and retail services and a 50,000 sqm residential garden community.
Vasint held a ceremony to celebrate the ongoing works, including a symbolic laying of the cornerstone and a time capsule which contained a foundation act, a memory stick with the design documentation, renderings and the day's issue of a local newspaper.
Vastint Romania has been active on the local market since 2008 and is part of the Vastint Group, an international real estate organization with over 25 years of experience. The group operates in management of portfolio properties and the development of commercial real estate, including residential development and sales. (source: business-review.eu)